Description
Again, the audience will have thirteen pearls of Öcsi Kovács' music considered as a Hungaricum. The internationally recognized trumpet player and violinist compiled a striking album with Mihály Dresch (saxophone, flute), Kálmán Balogh (cymbal) and Mátyás Szandai (contrabass). The most prominent national representatives of the national ethno-jazz genre have facilitated the synthesis of the universal and Hungarian musical culture. A 24-minute concert video has been inserted in the CD in addition to the 13 audio tracks, which were recorded at the band's concert held at the MU Theater in Budapest.
The sound record was compiled for the performance titled 'Tisztújítás' ('The election of officials') at the Attila József Theater in the first quarter of 2006. The music, however, constitutes a new repertoire of 'The Six' formation. Mainly, the one titled 'Pasa' ('Pasha') that has a longer playing time appears at this point in its pieces (see 'Ostrom' ('The Siege'), 'Tüntetés' ('The Rally'), 'Pasa' ('Pasha I., II., III., IV.'). The four musicians were few in number, it must have been played again with the piano and the wind section, so that the meaning of the original can be manifested. The music having had love and change themes already demonstrated the character of the band, which is de facto a fresh synthesis of the music played by the Kálmán Balogh Gipsy Cimbalom Band and the Dresch Quartet. The fact that every track was compiled by single recording verifies this freshness, which found the musicians in their good moods. The archive video record was compiled at the MU Theater on September 10 on the occasion of the Dresch Celebration, in which the adaptation of the song titled 'Bujdosik az árva madár' ('The lonely bird hides') can be listened to on the album titled 'Hatok'.
Budapest, 12th of november 2006
Ferenc Kovács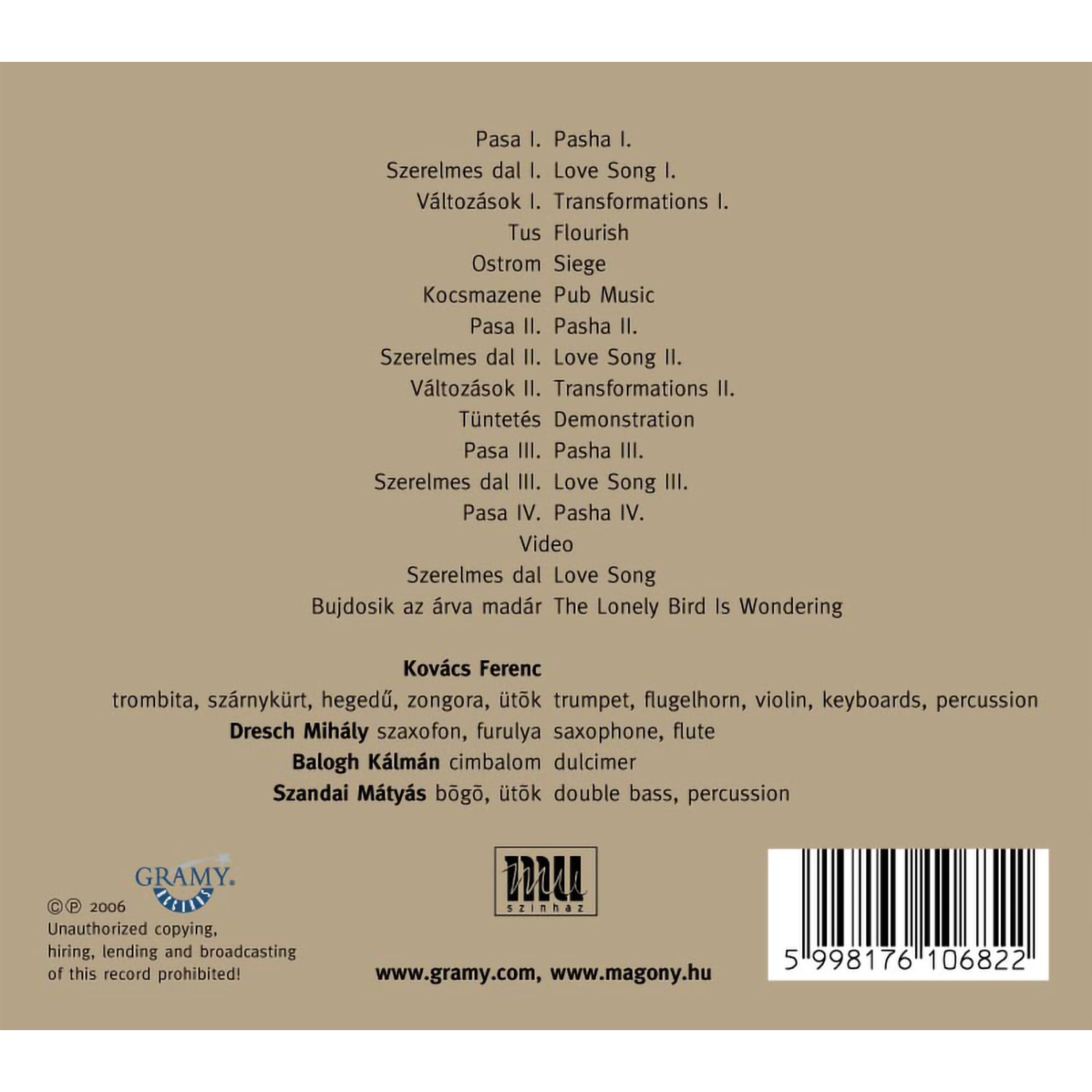 1. Pasa I.
2. Szerelmes dal I.
3. Változások I.
4. Tus
5. Ostrom
6. Kocsmazene
7. Pasa II.
8. Szerelmes dal II.
9. Változások II.
10. Tüntetés
11. Pasa III.
12. Szerelmes dal III.
13. Pasa IV.
Video
Szerelmes dal
Bujdosik az árva madár
Musicians:
Kovács Ferenc – trumpet, flugelhorn, violin, keyboards, percussion
Dresch Mihály – saxophone, flute
Balogh Kálmán – dulcimer
Szandai Mátyás – double bass, percussion