Born in Reykjavik, Iceland. As a child Gulli started banging on pots and pans on the kitchen floor of the family home in Reykjavik. Played guitar for two years age twelve and sang in a school band until the original drummer got sick and was forced to leave his chair. Practised drums in the loft of the Briem family residence, while playing in high school bands and musicals, where he met Johann Asmundsson a co-founding member of Mezzoforte (1977). The pair soon met Eythor Gunnarsson and Fridrik Karlsson in a Reykjavik music store, where Fridrik sold guitars. Recorded and toured with the band internationally from 1982. First big worldwide success with the group was in 1983 with the U.K. dance funk hit "Garden Party" and the Surprise, Surprise album.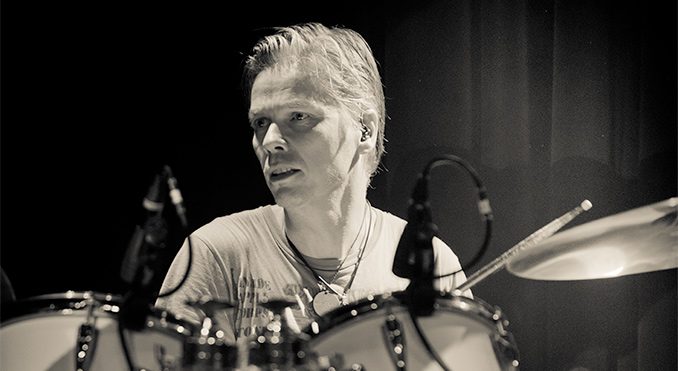 Has been nominated five times as the drummer of the year in Iceland.
Gulli was called to record with Madonna, Antonio Banderas & Jonathan Price in "Evita the Movie" in 1996 in London and later appeared with Madonna in Top of the Pops that same year with her own song "All by myself".
Gulli performed with Earth Affair, Mezzoforte, Philip Catharine, Madonna, Antonio Banderas & Jonathan Price (in Evita, Movie) Mornington Lockett, Tony Smith, Michael Ball, Jonn Savannah, British National Symphony Orchestra, Jim Davidson, Gunnar Thordarson, Mannakorn, Magnus Kjartansson, Bubbi Morthens, GCD, Bjorgvin Halldorsson.
Earth Affair is Gulli´s side project, where he writes the music and explores new territories with unusual compositions and sounds.
First album "Chapter one" was released in 2004 on Skip Records/Hamburg, featuring singer Morten Harket and The Voces Thules Gregorian singers. In 2006 he took his band and performed at Nelson Mandela´s 46664 awareness concert for Africa, which took place in Tromso, Norway along with Peter Gabriel, Robert Plant, Annie Lennox and Brian May.
Gulli is an ambassador for the 46664 Nelson Mandela foundation.
In 2014, GR1993 Records released the second Earth Affair album, Liberté.
Gulli shows a new side to his talents on this record with "film like" ambient, almost orchestral pieces of music that draw you quickly into their sonic world. The songs are indeed surprising and dynamic, where Gulli features South African singer, Vusi Mahlasela as well as using unusual instruments like an Icelandic Stone Harp made by modern artist Páll Guðmundsson from Húsafell, Iceland, as well as Dulcitone & Glockenspiel. British string arranger Simon Hale contributed to the album with two string arrangements performed by a Hungarian string ensemble in Budapest.
The Liberté album features eight new compositions written mostly by Gulli Briem & Icelandic poet Jökull Jörgensen. Additional musicians apart from Mahlasela are trumpeters Joo Kraus, Sebastian Studnitzky, percussionist Frank Aarnik, guitarist Arnar Guðjónsson. Gulli's voice, drumming and piano playing make "Liberté" a very unique album of soothing, but at the same time powerful and dynamic pieces of music.
In the worldwide distribution GR1993 Records has a partnership with the German O-Tone Records.
Releases from this artist