Boglárka Csemer founded her first jazz quartet in 2009 and released her first album titled Boggie in 2013 on Tom-Tom Records. The album features only original pop compositions written in Hungarian, French and English. From this album she released her music video Perfume, which has travelled the world. Her first album was ranked number 4 and number 17 on the US Billboard charts. She began her musical studies at the age of 13. She studied classical singing and classical piano at the Fasang Árpád Music School until 2007, while from 2004 she also studied jazz singing at the Erkel Ferenc Institute for Basic Art Education and Jazz Music College. In 2007, she started studying singing at the Kőbánya Music Studio in Kőbánya, and at the same time, at the Eszterházy Károly College of Music, where she studied French and Romance Studies, a culture that would later have a significant influence on her songwriting. In 2014, she released her second album, All Is One Is All, which won the prestigious Hungarian POP Record of the Year Award at the 2015 FONOGRAM Awards.
Her other outstanding teacher was Endre Dékány, from whom she learned the bel canto style of singing.In 2014, she released her second album All Is One Is All, which won the prestigious Hungarian POP Record of the Year Award at the 2015 FONOGRAM Awards.
In 2015, she entered and won the A Dal 2015 contest with her song Wars for Nothing, thus representing Hungary at the 60th Eurovision Song Contest. In October, she embarked on her first six stop tour of Western Europe and her second tour of the United States with her own music.
In 2016, the singer started working on her third album and in the meantime, she gave birth to her daughter Lenke. In 2017, she founded her own label and released her third self-titled album "3".
In March 2018, Boggie became a SXSW ARTIST: she was selected to perform at the world's most prestigious music showcase festival in Austin, USA. With her third album, she went on a national tour.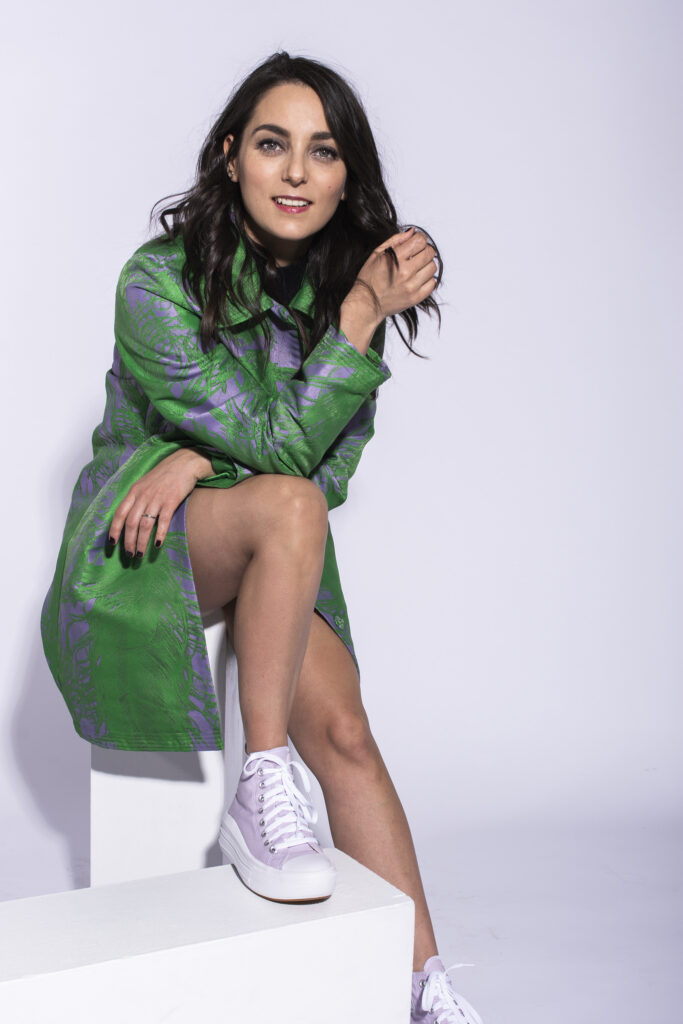 In the same year, she launches her permanent music-literature evening "Magvető Room Concert", hosted by Magvető Café. At the end of the year, Boggie receives the "HANGVILLA AWARD" for her outstanding work as a performer from the Hangvilla in Veszprém.
The world-famous ZAZ chose Boggie as a guest band for her concert at Budapest Park
She and her band were invited to Düsseldorf and then to the Swedish Live at heart showcase festival. She ended the year with a 4-stop Baltic tour.
In 2020, the singer gave birth to her second child, Imola.
In 2020, she started working with writer Krisztián Grecsó, with whom she has since written a song. And in 2023, they started a series of theatre concerts, visiting theatres in the countryside. In 2023, she was again given the opportunity to perform in Algeria, where she performed a duet with the Algerian singer Manal Gherbi, with whom she also recorded a song.
On 24 August 2023, she will celebrate the 10th anniversary of the Boggie production with a major concert at the Várkert Bazár.
MILESTONES
2023 // ANNIVERSARY CONCERT
2023 // ALGERIA
2022 // ALGERIA
2021 // BUSH ARTIST
2019 // BALTIC TOUR
2019 // LIVE AT HEART ARTIST
2019 // MüPA HEY JUNE
2019 // ZAZ GUEST BAND
2018 // SXSW ARTIST
2018 // HANGVILLA AWARD
2017 // 3RD ALBUM
2015 // EUROPEAN TOUR
2015 // EUROVISION
2014 // FONOGRAM AWARD
2014 // 2ND ALBUM
2013 // BILLBOARD LIST
2013 // FIRST ALBUM