Description
Djabe & Steve Hackett line-up made up for the 2020 and 2021 tour postponed due to Covid in 2022. The musicians eagerly awaited to make music together, so on the tour the band was very much together and gave their best performances of all time.
The program of the shows was based on the material of the albums released from the joint recordings in Sardinia, supplemented with classical compositions by Genesis, Djabe and Steve Hackett. The tour reached Hungary, Austria and the Czech Republic.
At the final stop of the tour, the band also recorded a video, the post-production of which, as usual, was done by Tamás Barabás and Attila Égerházi. The concert, which can be found on Blu-ray, includes several tracks performed live for the first time. Examples include Lake By The Sea from the Back To Sardinia album, the rock band version of Ace Of Wands from the Voyage Of The Acolyte album, or the Győr Blues compositions. There are several live versions of Steve Hackett and Djabe compositions previously not released on a Djabe & Steve Hackett live albums. Songs like The Steppes, Witchi Tai To, Győr and Power Of Wings.
The Blu-ray contains plenty of extras. Documentary filmed at the stops of the tour, the screen films, and tunes from the Budapest, Vienna, Olomouc and Debrecen gigs.
As usual, Tamás Barabás prepared a soaring surround mix. The Blu-ray offers to choose in 24bit/96kHz Dolby TreuHD and 24/96 wav 5.1. Of course, a high-resolution 24/96 stereo sound track can also be selected.
The total running time of the extras is almost an hour.
The two CDs contain the complete recording of the concert in Győr, as well as two compositions that were only played in Vienna and Olomouc. All of this is completed by a version of Castelsardo At Night recorded in Debrecen.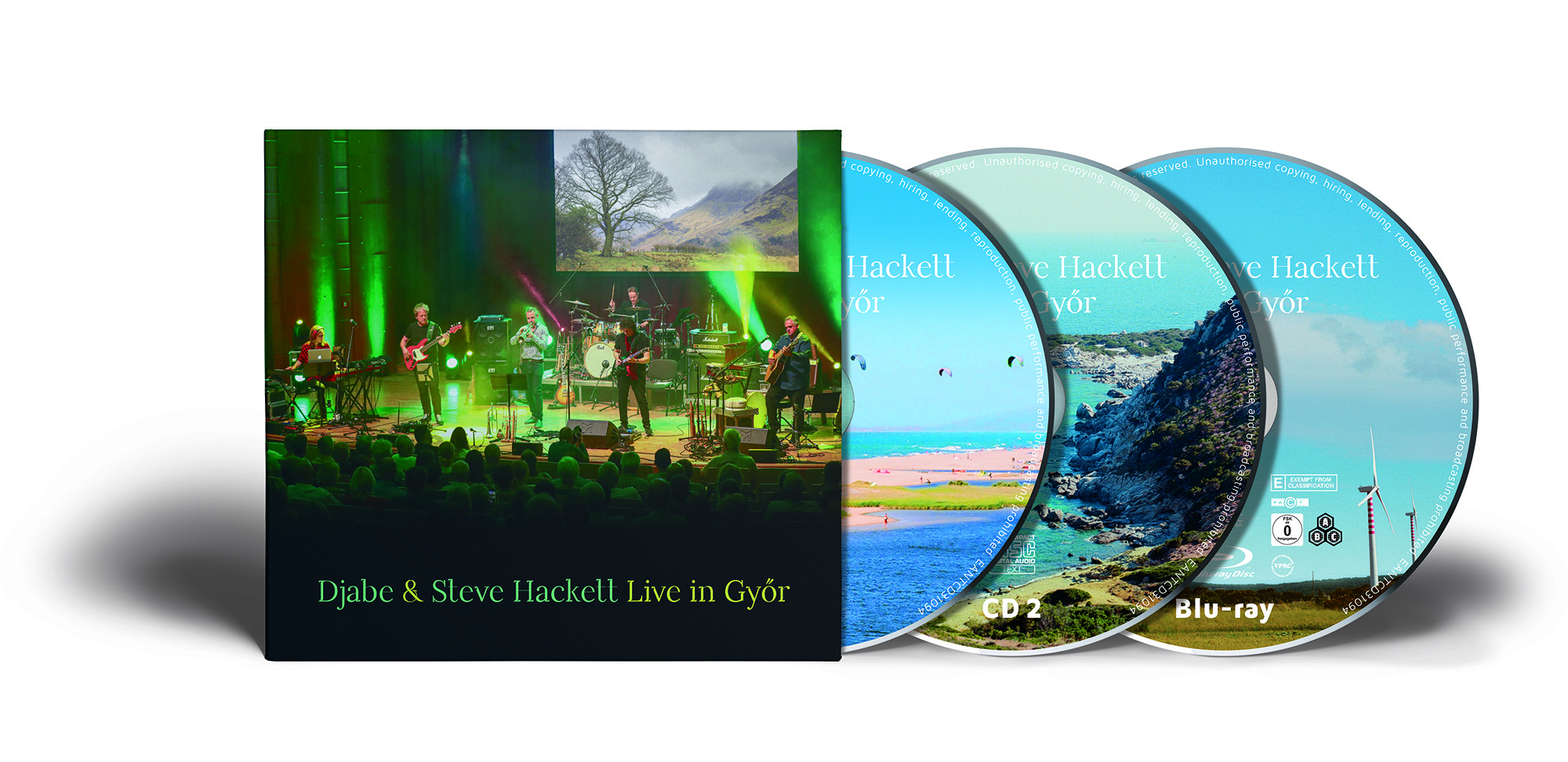 Tracklist
Blu-ray
1. Searching For The Stag
2. Power Of Wings
3. The Steppes
4. Buzzy Island
5. Lake By The Sea
6. Ace Of Wands
7. Castelsardo At Night
8. In That Quiet Earth
9. Witchi Tai To
10. Last Train To Istanbul
11. Győr
12. Golden Sand
13. Hairless Heart
14. Firth Of Fifth
15. Around The Circle
16. Distant Dance
17. Los Endos
18. Győr Blues
Extras
The Journey Continues Tour 2022 – documentary
Heartbeats Of Győr – documentary
Clouds Dance – live in Vienna 17 August 2022
Olomouc Blues – live in Olomouc 20 August 2022
Lake By The Sea – Screen film
I Will Always Remember – film clip
Beginning Of Legends / The Magic Stag – video clips
CD1
1. Searching For The Stag
2. Power Of Wings
3. The Steppes
4. Buzzy Island
5. Lake By The Sea
6. Ace Of Wands
7. Castelsardo At Night
8. In That Quiet Earth
CD2
1. Witchi Tai To
2. Last Train To Istanbul
3. Győr
4. Golden Sand
5. Hairless Heart
6. Firth Of Fifth
7. Around The Circle
8. Distant Dance
9. Los Endos
10. Győr Blues
Bonus tracks
Clouds Dance – live in Vienna, 17 August
Castelsardo At Night – live in Debrecen, 19 August
Olomouc Blues – live in Olomouc, 20 August
Musicians:
Steve Hackett – guitar, vocal, harmonica
Tamás Barabás – bass guitar, vocal
Attila Égerházi – guitar, percussion, vocal
Ábel Márton Nagy – keyboards
Áron Koós-Hutás – trumpet, flugelhorn
Gábor Oláh – drums
guests on stage
Csaba András Dr. Dézsi – guitar
Zoltán Romhányi – angklung