A JAZZ/WORLD FUSION ELSŐSZÁMÚ HAZAI KÉPVISELŐJE
A Djabe Magyarország elsőszámú jazz/world fusion zenekara. 24 éves fennállása alatt számos hazai, valamint nemzetközi díjat és elismerést szerzett.
2000 – Magyar Zenei Díj, az év World Music albuma – Djabe: Witchi Tai To
2001 – eMeRTon díj, az év World Music együttese – Djabe: Update
2004 – Prince Award díj, Djabe – Táncolnak a kazlak – DVD Audio
2004 – Surround Music Award jelölés – Djabe – Sheafs are dancing DVD Audio
2006 – Klaipeda Jazz Festival, Litvánia különdíj
2011 – Barabás Tamás basszusgitár művész – Artisjus díj
2019-ig a zenekar összes stúdió és néhány koncert lemezét is jelölték a MAHASZ díjára jazz vagy world music kategóriában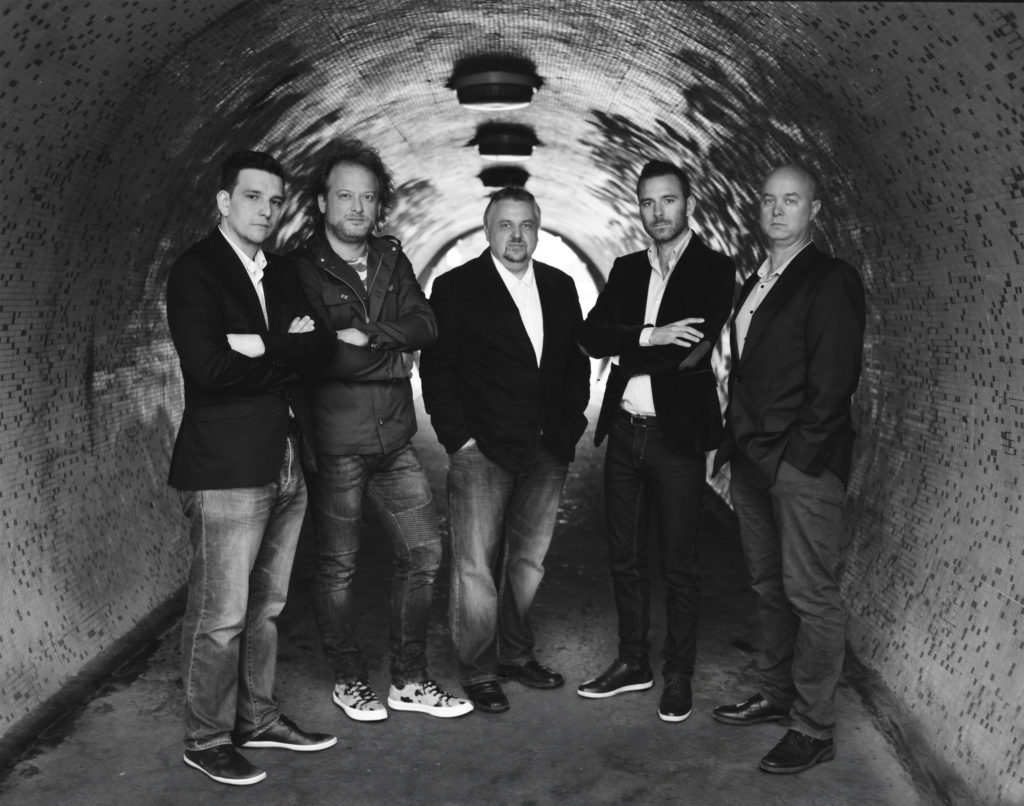 2002-től kezdődően 42 országban vendégszerepelt Európában, Ázsiában és Észak-Amerikában. A Djabe az egyik legkeresettebb magyar jazz zenekar a nemzetközi fesztiválokon.
2007 óta a Genesis egykori gitárosával Steve Hackettel is rendszeresen koncertezik.
A teljesség igénye nélkül néhány jelentősebb koncert helyszíne: Rochester, Baltimore, Washington DC, San Jose – USA; Kaslo, Toronto, Edmonton, Vancover – Kanada; Burghausen, Berlin, Regensburg, München – Németország; Klaipeda, Kaunas – Litvánia; Riga. Saulkrasti – Lettország; Tallin – Észtország; Pori, Imatra – Finnország; Glasgow, Krakkó, Varsó – Lengyelország; Stockholm – Svédország; London – Anglia; Hradec Králové, Prága – Csehország; Bansko – Bulgária; Graz, Bécs, Wiesen – Ausztria; Szarajevó – Bosznia-Hercegovina; Udine – Olaszország; Sines, Portiamo – Portugália; Baku – Azerbajdzsán; Szeben, Garana, Bukarest, Nagyvárad – Románia; Nis, Újvidék, Belgrád – Szerbia, Ulánbátor – Mongólia; Almaty – Kazahsztán; Bishkek – Kirgizia; Kuala Lumpur, Penang – Malajzia, Dubai – Egyesült Arab Emirátusok, Koktebel, Lviv – Ukrajna; Hága – Hollandia; Zágráb, Dubrovnik – Horvátország; Pozsony – Szlovákia; Kréta – Görögország; Moszkva, Kalinyingrád, Szentpétervár – Oroszország.
A Djabe egyedi zenét játszik, melyben a jazz keveredik a magyar és a világzene különböző elemeivel. A zenekar első számú komponistája Barabás Tamás, aki talán a legvirtuózabb magyar basszusgitáros is egyben. A Djabe afrikai ashanti nyelven szabadságot jelent. Az alapító, zenekarvezető és komponista Égerházi Attila gitáros ezt a szabadságot elsősorban a zenei stílusok és hangszerelések szabad keverésében értelmezi.
A Djabe az első 20 év kirobbanó sikerei után, 2016 őszén megújult, kiváló hazai muzsikusok kerültek az együttesbe. A doboknál a nemzetközi szinten is több szakmai elismerést elnyert, valamint Artisjus-díjas és Grammy-díjra jelölt Kaszás Péter ül, aki jelenleg is Al di Meola együttesének dobosa immáron tizedik éve. A Djabe régi-új tagja Koós-Hutás Áron többszörös díjnyertes trombitás, aki 2008- és 2010 között már rendszeresen szerepelt a zenekar koncertjein. Elsősorban Kovács Ferenc helyetteseként lépett fel a zenekarral, de 2010 után együtt is játszottak koncerteken. Láthatjuk és hallhatjuk őt a Djabe 15 DVD-n, és az In the Footsteps of Attila and Genghis dupla CD-n. A billentyűknél a hazai jazzélet kimagasló zongoristája, az Artisjus-, eMeRTon- és Erkel-díjjal rendelkező Nagy János hallható, aki rengeteg kiemelkedő nemzetközi és hazai művésszel dogozott már együtt.
Az új felállás első kiadványa, a Djabe: New Dimensions Update Live koncert LP és CD 2017 februárjában jelent meg. 2018. májusban látott napvilágot a Flow című stúdió album, mely nagyon jó nemzetközi fogadtatásban részesült.
2017-ben elindult az együttműködés az angliai Cherry Red Records kiadóval, melynek keretében két év alatt három album is megjelent Djabe & Steve Hackett néven világszerte. A Summer Stroms and Rocking Rivers, a Lifei Is A Journey – The Sardinia Tapes és a Life Is A Journey – The Budapest Live Tapes komoly sikereket és eladásokat hoztak a kiadónak és az alkotóknak is.
A zenekar zenei vezetője Barabás Tamás, aki a Táncolnak a kazlak 5.1-es surround hangkeverésével az Abbey Road stúdió szakembereinek az elismerését is kivívta, melyet Los Angelesben, 2004-ben Surround Music Awardra is jelöltek.
A Djabe az elmúlt 24 évben számos más külföldi és hazai zenésszel is dolgozott együtt. Ben Castle szaxofonos (The Brand New Heavies, Sting, Jamie Cullum) a zenekar négy albumán és három koncert kiadványán is hallható, hiszen turnézott is a Djabe-val. John Nugent amerikai szaxofonos (Ella Fitzgerald, Tony Bennett, Carla Bay) a Take On, Down and UP, Forward, 20 Dimensions albumok szereplője és napjainkban hazai és külföldi koncertek rendszeres közreműködője. Malik Mansurov az ősi azerbajdzsáni tar hangszer nagymestere. A hazai vendégzenészek közül ki kell emelnünk három szaxofonost, Dresch Mihályt, Muck Ferencet és Tóth Viktort és a tablás Mótyán Tibort. A zenekar külön projectje a Djabe special guest Steve Hackett előadás, melyben Steve nemcsak a Djabe számokban játszik, hanem a zenekar közreműködésével Genesis és Hackett klasszikusok is felcsendülnek. A romániai Garana fesztiválon 13000 néző tombolt a Djabe és Steve zenéjére.
A zenekar tagjai:
Barabás Tamás – basszusgitár
Égerházi Attila – gitár, ütőhangszerek
Koós-Hutás Áron – trombita, szárnykürt
Kaszás Péter – dobok, ének
Nagy János – zongora, billentyűs hangszerek
Előadóhoz kapcsolódó kiadványok